Very happy today to receive notice that my
HDR Panoramic - Mannlichen, Switzerland
image was awarded a Bronze Award in the
Epson International Photographic Pano Awards
.
HUGE
thanks to
Philip Johnson
for suggesting I enter the comp.
For anyone who has not seen the image, it is
HERE
and the details are below.
The LARGE version can be seen
HERE
.
*This is a full 360 degree panoramic.*
With the camera on the tripod, it was created from 7 groups of 3 different bracketed exposures, totaling 21 separate photos. Photos were stitched together in photoshop to create three panoramics of different exposures (+1, 0, -1).
These were then opened in *photomatix* and tonemapped. This created a 515+mb tiff file.
This file was then opened in photoshop and layed over the top of a seperate pano created from the correctly exposed photo (0) from each of the bracketed sets of three.
A layer mask was applied to the top layer (the hdr layer) to reveal the (clean white) mountains on the underneath layer, whilst retaining the hdr effect to show the amazing details and contrasts that were present in the clouds. This created a 702 mb tiff file!
This was then cropped and resulted in a 556mb tiff file. This was then saved as a jpg, resulting in a 25mb jpg which is 25079 pix wide x 2766 pix high at 300 pix/inch.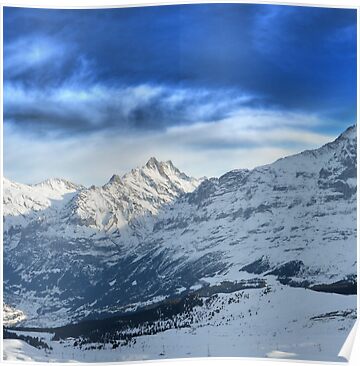 The Männlichen is a 2,343 metre mountain in the Swiss Alps located within the Canton of Berne.
It can be reached from Wengen by the Luftseilbahn Wengen-Männlichen (LWM) cable-car, or from Grindelwald using the Gondelbahn Grindelwald-Männlichen (GM) gondola. It then takes 15 minutes to walk to the summit. It is a popular viewpoint over the Lauterbrunnen valley and a popular start location for hikers and skiers.
*Photograph taken with Nikon D7000, 18-55mm Nikkor lens @ 18mm, iso 100.*
*This image received 443 views, 82 comments, 71 favouritings, and 3 features (one being a RedBubble main photo page feature) within the first 24 hours of posting on
RedBubble
.* :-)
*Totals views to date (18/05/2011) - +*1547*+ views, 92 favoritings, 3 features & 123 comments .*
_Image added on 17/01/2011_